External Output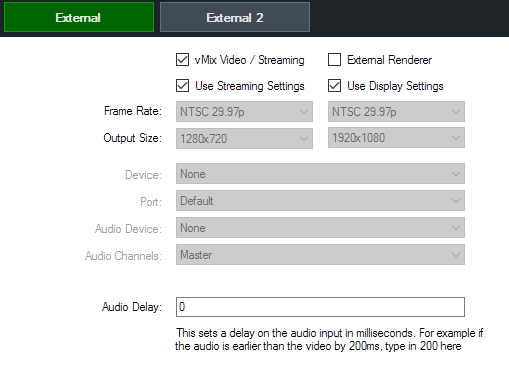 vMix Video / Streaming
Select this option to output to the vMix Video device when External Output is running.
vMix Video is a device that appears in 3rd party applications such as Adobe Flash Media Live Encoder and Skype and is also used for the built in Streaming feature.
Use Streaming Settings: When ticked this option will match the streaming quality settings and should remain ticked for the best results when streaming.
See Streaming
External Renderer
Select this option to send video and audio out to compatible output devices.
Some examples of hardware that support output including most AJA, Blackmagic Design and BlueFish devices.
Use Display Settings: When ticked this option will match the Frame Rate and Output Size settings under the Display tab at all times.
See External Output for more information.
External 2
In vMix 4K and Pro a second independent output can be configured for both vMix Video and External Renderer.
This vMix Video device is called vMix Video External 2 in 3rd party applications.
Frame Rate
Select the Frame Rate for the External Output. When using the External Renderer this should be set to the frame rate required by the device's output.
For vMix Video / Streaming, this should be set to the Master Frame Rate set under the Display tab for optimal performance.
Output Size
Resolution for the External Output. This must be set to the output format when using the External Renderer. For example if using the Composite/S-Video output this will usually be 720x576 for PAL and 720x480 for NTSC.
Device (External only)
Select the output device to use. (Such as the AJA Kona 4)
Port (External only)
Select the Port to use on the output device, for example HDMI or SDI.
Audio Device (External only)
Some output devices require selecting an Audio Device as well which can be selected here.
If this option is not visible, then the audio will automatically be included.
Audio Channels (External only)
Audio Delay
This sets a delay on the audio input in milliseconds. For example if the audio is earlier than the video by 200ms, type in 200 here.